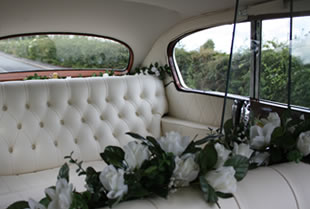 Limousine hire for weddings in Manchester, Blackpool and Lancashire.
We know that organising a wedding can be a stressful time for those involved, with no shortage of worries, problems and concerns in the months before the 'big day'. So allow Big Slo Limo Co. to put your mind at rest regarding the all-important task of getting to the Church on time.
Today's weddings come in many different forms; from the traditional Church service followed by a lavish reception, civil ceremonies, themed weddings and 'pink' weddings for same-sex couples. With an increasing number of venues now licensed to hold civil marriage and partnership ceremonies, many couples now choose to hold the ceremony and reception at the same location.
It is our belief that no two weddings are alike and each occasion is truly individual. We welcome the opportunity to tailor our services to your requirements and provide you with an unrivalled experience at a competitive price.
Our superb choice of modern and vintage wedding cars can be hired for one-way journeys as well as for specific durations. A day's booking allows for multiple journeys between venues and offers a comfortable and convenient way for wedding couples, bride's parents and close family and friends to travel in comfort and style.
Decorative ribbons and flowers are included in wedding car bookings. Our fleet includes the Beauford Tourer, Bentley Arnage, traditional limousines and Mercedes saloons.
On the day guests may wish to take photographs of the car with the wedding couple posing in or alongside the vehicle. Our experienced and friendly chauffeurs will be happy to oblige in this regard. Tasteful umbrellas are carried in all wedding cars in the event of inclement weather.
In order to toast the occasion a chilled bottle of 'Bubbly' will be included in the booking but we don't mind if you prefer to bring something stronger (we don't charge for corkage). Our workshops are located a few minutes' drive from Bury and Bolton and visits from potential customers, who wish to see our fleet first-hand, are welcomed. Please contact us directly to arrange a visit as this ensures any particular vehicles you wish to view are available.
Our reputation is based on almost 20 years' experience of providing luxury, well presented wedding cars, stretched limousines and luxury minicoaches. We serve customers across the Greater Manchester, Lancashire and Liverpool area including Manchester, Salford, Bolton, Bury, Oldham, Preston, Rochdale, Chorley and Liverpool. For enquiries and visits please call our bookings team on 0800 083 1782 (charges may apply by mobile operators), use our local number 01204 522 422, or Click here to make an online enquiry >>>.