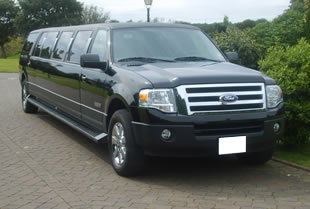 Limousines and chauffeur cars for funerals.
Funerals, by their very nature, are sombre occasions accentuated by grief and sadness at the loss of a friend or relative, but they can also be a time to celebrate the life of that loved one. Increasingly people are abandoning tradition and opting for what are known as 'Celebration of Life' funeral services, more relaxed ceremonies for those who choose a funeral without the religious connotations.
'Celebration of Life' services are seen as a more joyous occasion, with mourners being asked to wear colourful outfits, and the service itself is punctuated by happy memories of the departed. The more traditional and staid method of chauffeuring mourners is often exchanged for more colourful options with an emphasis on celebration.
Big Slo Limo Co. is able to provide chauffeur cars and stretched limousines for both types of funeral. For the traditional service we have a fleet of black and silver limousines that can seat upto 12 passengers while we also offer brighter limousines in white and pink. All limousines are fitted with complete sets of glasses and ice buckets should a toast of remembrance be appropriate.
Such occasions are individual and no two funerals are alike.
For enquiries, bookings and visits please call our team on 0800 083 1782 (charges may apply by mobile operators) or use our local number 01204 522 422. Make an enquiry >>>