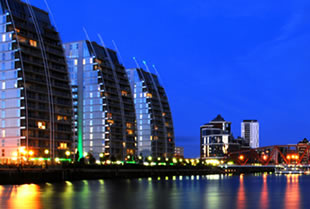 Enjoy unforgettable nights out in Manchester with Big Slo Limo Co. Ltd
Limo hire in Manchester.
Stretched limousines, modern chauffeur cars and classic wedding cars for hire.
The birthplace of the industrial revolution has gone on to become the capital of the 'entertainment evolution'. From Castlefields in the south to Ancoats in the bustling Northern Quarter, Manchester offers nightlife and experiences to suit all tastes.
Manchester's Chinatown, with its distinctive arch and variety of differing oriental dishes is world famous and visitors are guaranteed a warm welcome and a great meal. There are some fine Italian Restaurants in the city including San Carlo and Rosso where you're likely to rub shoulders with some of Manchester's footballing elite. Stock Restaurant, situated in the former Manchester Stock Exchange with its 50ft high domed ceiling, is definitely worth a visit, as is Albert's Shed, a very stylish Italian Restaurant in Castlefields with a unique story to tell. For the best Tapas this side of Madrid look no further than El Rincon de Rafa.
Start an unforgettable Manchester bar crawl at Baa Bar or Living Room on Deansgate, both modern and bright venues offering good food and cocktails. Deansgate Locks, a canalside setting for trendy bars and nightclubs like Sakura and Lock 91, located a short walk from Deansgate itself, is a very popular drop-off destination for limousine bookings in Manchester.
Our favourite venue is Norwegian Blue, a Vodka drinker's heaven inside the Printworks, a multi-purpose entertainment complex developed on the site of the old Daily Mirror printworks on Corporation Street. Tiger Tiger, the Hard Rock Cafe and plenty more eating and drinking venues can also be found here.
The LBGT scene in Manchester is world renowned, with the annual Gay Pride Celebration weekend being the highlight and Canal Street, now the hub of the 'Gay Village'.
Live events
Manchester is home to the Hallé Orchestra, founded in 1858 by Sir Charles Hallé and this fine symphony orchestra has been performing classical music in Manchester and around Britain for more than 150 years. The orchestra's 'home' performances take place at the Bridgewater Hall, with regular performances of some of the most popular classical music with guest conductors. A short limousine ride across town will take you to the MEN Arena where you'll find a variety of headline concerts and famous faces.
In addition to these fine music venues Manchester offers a wide choice for theatre lovers. The Palace Theatre and The Opera House stage drama and musical productions throughout the year as does the Royal Exchange Theatre in St Ann's Square. Just a short limo ride south across the river takes you to Salford where you'll find the now famous Lowry Theatre and Arts Centre and The Imperial War Museum, both venues offer something interesting all year round.
Manchester plays host to lots of varied events during the course of the year, Manchester Jazz Festival in July is a seriously cool event to attend and be seen at as is the Gay Pride Weekend in August. If you want something completely different why not join Flecky Bennett's Manchester Ghost Walk (not for the faint hearted), a character based ghost walk around the city centre. Or why not cruise the Manchester Ship Canal and arrange for a limousine pick-up at the other end to bring you back to Manchester. If you are visiting Manchester our chauffeurs and vehicles can be available to collect you from the airport and take you to the brightest attractions in town, but remember the party starts the minute you step into one of our limousines!
Sightseeing in Manchester from the comfort of a stretched limousine
Hire a limousine in Manchester during the day to visit some world famous heritage sites, such as the Mamucium fort at Castlefields which is the centre of the Roman enclave, or have a look at the Museum of Science and Industry (housed in the world's oldest railway station) at the very place where railway travel was pioneered. Of course any sightseeing limousine booking in Manchester would not be complete without visiting Old Trafford, the home of the most famous football team in the world!
Make Big Slo Limo Co. Ltd your first choice for limousine hire in Manchester! Please call us on 0800 083 1782 or 01204 522 422 or complete the form to send us an online message. Click here to make an online enquiry >>>