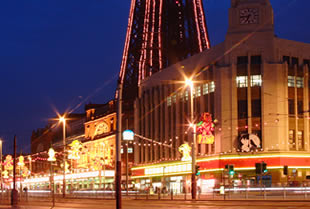 Blackpool limousine services.
Big Slo Limo Co. Ltd provide luxury limousines for hire in Blackpool.
Blackpool; the 'Vegas of the North'. Often referred to as the 'Fun Capital' of the UK there is no better way of taking in the magic of this amazing place than by hiring one of our fantastic fun-filled limos.
Cruise the Golden Mile in your 'Kiss Me Quick' hat, stop off at the Pleasure Beach, Robert's Oyster Bar on the Promenade or just sit back and let your chauffeur point out the best places to party.
Blackpool's nightlife is varied and numerous and there are pubs and clubs to suit everybody looking for a fun time. With so much going on its difficult to know where to begin! For the early starters, head for the North Pier and the Merrie England Bar where you can enjoy a few drinks in the company of Lancashire stand-up legend Joey Blower. Just across the road in Queen Street you'll find Bar 19, a great night out with cheap drinks.
The world famous Yates' Blackpool is a stones' throw away in Market Street and now boasts a brand new look over its three floors following a major refurbishment program. Of course no visit to Blackpool is complete without a look at the Tower (just look up, you can't miss it!). The Tower Lounge is home to birthday party crowds and stag and hen parties from all over the country. Let the nightlife begin, clubbing in Blackpool is not for the faint hearted, try Club Sanuk on the Promenade, based near to the North Pier. Sanuk is Thai for 'fun' and that's exactly what Club Sanuk is all about - seven bars and five rooms with four different genres.
In Talbot Square you'll find upmarket bars such as Rumours and Hush. Rumours is a wine bar, night club and party venue all in one. Together with its funky counterpart Hush these venues are changing the way visitors to Blackpool enjoy themselves. A short chauffeur driven limousine ride over to Church Street and you arrive at Syndicate, a former ABC cinema now arguably the biggest superclub in town, with a capacity of 5000.
Blackpool is home to a terrific gay scene with some of the best pubs and clubs in the North West. Start off at the Flying Handbag in Queen Street, a relaxed gay bar with great atmosphere thats open from 11am everyday, and then move on up to Flamingo for the ultimate gay clubbing experience. This multi-level ultra-modern club is for the serious clubber and is a 'must see'; themes vary during the week with a variety of DJs taking centre stage throughout the year.
Funny Girls showbar, on Dickson Road, is a great burlesque venue for those looking for something a little risqué.
If you are visiting Blackpool our limousines are available to pick you up from the airport and take you straight to the best venues in town. Each limousine is fitted to the best standards in the industry, with features including bar areas, ice buckets, complimentary bubbly (terms apply), disco lighting, full entertainment system and air conditioning!
Take a closer look at our Lincoln and Hummer limos and find out for yourself how an affordable limo booking can add some extra atmosphere, style and convenience to your night on the town!